Well-Planned Events brings world-class destination management to your meeting or special event. Let us design a custom hospitality program that will show the uniqueness of Music City along with its history and culture.
If you already have themes and activities in mind, perfect! If not, let us inspire you. Our unique and innovative ideas are customized to your exact specifications. From a single component to orchestrating a grand event with a multitude of working parts, we are here to lend our expertise.
Specialty Tours
Transportation and Logistics
Team Building
Events Staffing
Themed Events
Event Registration
Guest Speakers
Meet and Greet
Entertainment and Production
Unique On/Off Property Events

Customized Group Activities
Script Writing
---
Nashville, Tennessee
"The new Nashville offers two things worth traveling for: a hot, trendy new food scene and its famous, funky music scene. The "haute southern" cuisine is flourishing in Nashville at restaurants like The Patterson House and The Catbird Seat. Not to mention some of the tastiest and most creative cocktails we've ever tried. At night, you can't walk two blocks without coming across some incredible live music, from bluegrass to brass bands, zydeco to country."
--Condé Nest Traveler
"It's good to be Nashville right now," said Mayor Karl Dean during a recent tour of his favorite civic sites, the biggest of which is a publicly financed gamble: a new $623 million downtown convention center complex that is the one of the most expensive public projects in Tennessee history.
The city remains traditionally Southern in its sensibility, but it has taken on the luster of the current. On a Venn diagram, the place where conservative Christians and hipsters overlap would be today's Nashville.
Flush with young new residents and alive with immigrants, tourists and music, the city made its way to the top of all kinds of lists in 2012."
--NY Times
"What makes Nashville and its Honky Tonks really unique and different from New Orleans' French Quarter, Beale Street in Memphis, or Austin, the self-proclaimed "Live Music Capital of the Country," is that in Nashville they go all day long. Usually you have to wait until the evening for live music but here you can pop in to a nearly empty bar at 2PM and catch great acts. This is perfect for the weekend visitor looking to compress the timeframe, and you can do the Country Music Hall of Fame in the morning, grab lunch and then catch several acts, all before heading back to your hotel to freshen up for dinner – and then you can do it again."
-- Forbes
Boots & Bandana Golf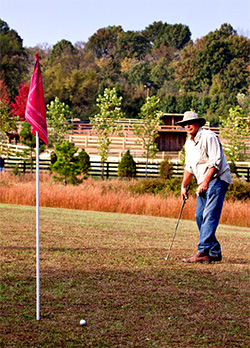 Boots and Bandana Golf is  not only a brand new way to play an old game, it is a connection of people of all ages and abilities that either love the game of golf or would love to give it a try. This unique style of "Cowboy Golf" fits perfectly into today's hurried culture of limited time and resources when it comes to recreation.

Boots and Bandana Golf offers a way to play golf quickly, without a lot of skill, and very few equipment requirements. Simply combine a mower and an imagination with acres of pasture or ranch land, the result is an 1800's style Scottish golf course in Williamson County! Call Well-Planned Events today to book this fun venue!

Watch Video
---
Time Zone: Nashville is in the Central Standard Time Zone (CST)
Average Temperature
| | Jan | Feb | Mar | Apr | May | Jun | Jul | Aug | Sep | Oct | Nov | Dec | Year |
| --- | --- | --- | --- | --- | --- | --- | --- | --- | --- | --- | --- | --- | --- |
| Avg | 36.2 | 40.4 | 50.2 | 59.2 | 67.7 | 75.6 | 79.3 | 78.1 | 71.8 | 60.4 | 50.0 | 40.5 | 59.1 |
| Avg Max | 45.9 | 50.8 | 61.2 | 70.8 | 78.8 | 86.5 | 89.5 | 88.4 | 82.5 | 72.5 | 60.4 | 50.2 | 69.8 |
| Avg Min | 26.5 | 29.9 | 39.1 | 47.5 | 56.6 | 64.7 | 68.9 | 67.7 | 61.1 | 48.3 | 39.6 | 30.9 | 48.4 |
State Sales Tax
Tennessee has a state sales tax of 7% on tangible property (prescription drugs exempt); 6% on food and food ingredients. Counties and cities may add another 1.5% to 2.75% to the total of either rate.  Nashville has a sales tax of 9.25%.
Airport Information
Nashville serves Nashville International Airport (BNA) flying both to domestic and international locations. Nashville International Airport hosts 12 different airlines making sure that you get to where you need to be.